1. Does the Network Scan Work?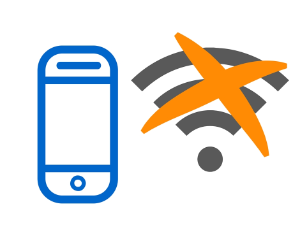 Let's start with the most obvious:
Can you see the Wi-Fi symbol on your device at all, and is it actively searching for networks?
If not, double-check your settings: Is wireless turned on?
Do more features seem disabled? Maybe the device needs a reboot?
2. Is the Wireless Network Down?
There are several things you can do to test this:
The simplest of course is to try to connect with another device, or get someone else to check whether they are able to connect.
If you can see the actual router (or other wireless access point) that you're trying to connect to, look for light signals that indicate errors, or maybe the light is off.
3. Is there a Hidden SSID?
Most access points have a setting called "Hide SSID" or similar. If this is enabled, you have to know the exact name of the network and manually enter it on each device yourself.
You can use a Wi-Fi scanner application to see all active networks around you, even those who may have hidden SSIDs. For tips on scanning tools and more advice, see: Find Good Channels and Bad Neighbors with a Wi-Fi Scanner.
As a Wi-Fi scanner will show a wireless network even when the SSID is hidden, this setting does not provide any particular level of increased security, and we do not recommend using it. You can read more advice on SSID setup here.
4. Are There Very Many Wireless Networks Available?
Some types of devices, like wireless printers, may have a limit to how many networks they are able to display. For example, some will show only the first 10 networks being intercepted, even if more than 20 networks are available. In this case, it may be necessary to enter the network name (SSID) directly on the device to connect.
5. Does the Wireless Network Use a Wi-Fi Channel that Your Phone Does Not Support?
If you are using a mobile or other device made for a market outside of Europe, or a low-cost product, it may not be able to communicate on the Wi-Fi channels used:
The 2.4 GHz band has 14 channels. 13 of them are in use in Europe, but products aimed at the US market will generally not support channels 12 and 13, because it is forbidden to use these channels in the United States.
On the 5 GHz band, there is a high number of channels spread out across several so-called U-NII bands. Japan and some other Asian countries have their own limitations on which channels and tapes can be used on the 5 GHz band. Products aimed at these markets may have difficulty using the channels supported in Europe. A complete, color-coded overview of which channels are allowed to be used in which countries can be found in this Wikipedia article about U-NII.
Many low-cost products may also have channel constraints, regardless of which market they were made for. If you have any doubts about what your device supports, check the documentation for it.
This is also one reason we strongly recommend checking the wireless capabilities of any device before buying.
To find out which channel your wireless network uses and optionally change it, you need to log in to the settings of your router or access point:
For the 2.4 GHz band, the channel must be set to 11 or lower to support all devices.
For 5 GHz bands, channels 36, 40 and 44 are allowed in all countries except China.
More on finding the best channel on the 2.4 GHz band can be found in: How to find good W-iFi channels and bad neighbors.
Can you find the network, but performance is slow? Then the explanation can be in the standards support.
Article by Jan Pedro Tumusok and Jorunn D. Newth