Mesh Network: Multiple Access Points Ensure Coverage
A single access point or router will always have a limited range and capacity. These limitations are part of the Wi-Fi technology, not a quality issue with your router.
Air 4930 is a compact and efficient wireless access point with internal WiFi antennas. An AirTies home pack contains three such devices, already set up in a mesh network with each other.
This mesh network allows the devices to act as one for you as a user, while spreading coverage throughout your home and distributing wireless data traffic.
The devices communicate wirelessly with each other, while at least one of the devices is wired directly to the router or IAD. Where many Wi-Fi repeaters consume valuable capacity and put additional strain on the router, the mesh network takes over the entire job of providing Wi-Fi and does it far better than any single router could.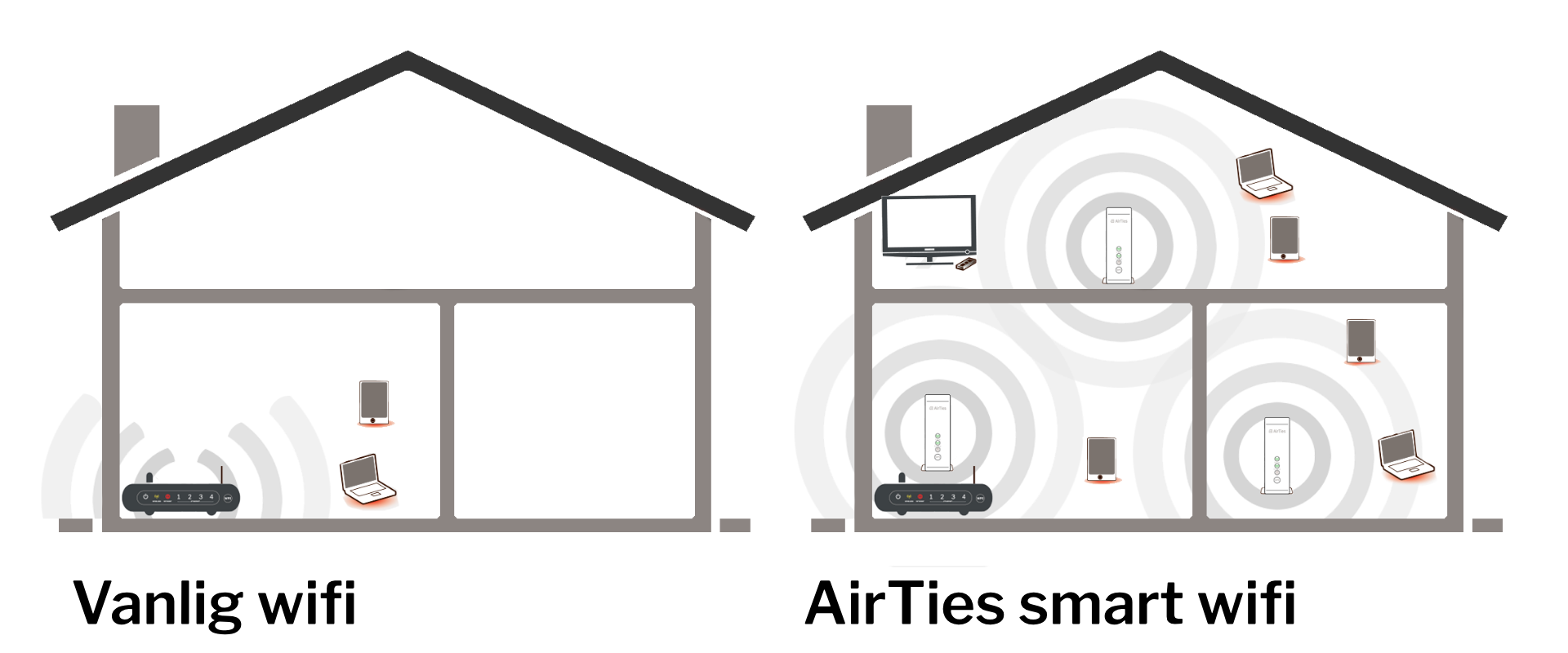 Client Steering: Freedom to Roam
Regardless of where you are in the home, which device you are using or which frequency band you will be connected to, you have the same SSID / network name and password. The mesh network ensures that you always connect where you will get the best performance.
This means that you can move around your home without noticing that your smartphone or laptop is changing access points. This technology is called client steering, because the devices need to be actively steered so as not to cling to whichever connection they already have. (You can read more about this in the article Sticky Clients: When Devices Cling to a Bad Connection.)
Client steering also prevents a single computer or device (such as an old smartphone) from sabotaging everyone else on the network by using up all the capacity.
Band Steering: Get the Best Performance
The mesh network also ensures that all devices connect to the frequency band that will provide the best performance at all times, not just the signal that seems the strongest. This gives you better performance for devices that support the latest standards and the 5 GHz frequency band.
Easy Installation with or Without the App
The devices in the home pack are pre-configured as one mesh network. See our placement guide for more advice on how to place the AirTies devices in your home for optimal coverage.
AirTies has also created an app that can guide you during installation and lets you see the connections in your network when set up.
See Get The AirTies WiFi App for more information.
Ethernet Mesh: Combine Cables with Wi-Fi
Communication in the mesh network is usually wireless, but one can also choose to connect more of the devices to the internet with an Ethernet cable. Because wired internet access is always less vulnerable to interference than wireless, this will provide an even better and more predictable user experience.
For more information on this, see Setting Up AirTies Ethernet Mesh.
Read more