You can also set the new SSID and password yourself, either using the AirTies WiFi app or the web interface of one of the AirTies devices.
When you supplement a home pack with additional devices, these come with their own SSID and password. When an additional access point is added to a mesh network, these settings will be overwritten with the same SSID and password as the rest of the network.
Changing the SSID and Password Using the App
Open the app and go to My Wi-Fi settings.
Add your new network name (SSID) if desired, then and type and confirm your new password.
Tap Apply.
Important: Keep the same SSID and password for both frequency bands.
AirTies Wi-Fi uses client steering and band steering — technologies that make sure all the devices and computers connect to the access point and the frequency band that deliver the best performance for each device.
For these technologies to work, you must keep the same SSID and password for the 2.4 GHz and 5 GHz frequency bands.
Changes made using the app will automatically apply to both frequency bands.
If you make changes using the web interface (described below), you must ensure that you make the same changes for both frequency bands.
Video: How to Change the SSID and Password
Step by step: Change Network Name (SSID) and password for AirTies Wi-Fi via web
By using the web interface for one of the AirTies devices to update these settings, they will automatically be copied to the other access points.
If you want to change the network name and password:
Connect a PC, tablet, or mobile phone to your wireless network using the default SSID and password.
Open a web browser.
Type "http://air4920.local" in the address bar (or "http://air4930.local" if this is the model you have).
Log in (the default password is blank) and navigate to "Quick Setup" in the menu on the left-hand side.
Follow the onscreen instructions to change your wireless network name (SSID) and password.
Also, be sure to set a password to log in to those web pages.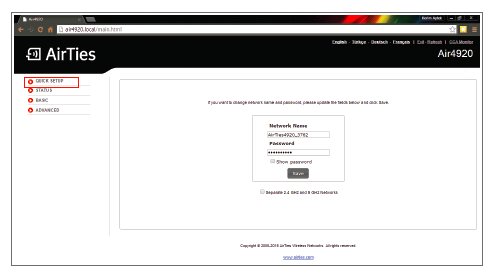 Note that only the SSID and Wi-Fi password are automatically copied throughout the mesh network, the other settings are unique to each AirTies device and available at the addresses http://air4920-2.local, http://air4920-3.local and so on, as long as you are logged in to your AirTies network (http://air4930-2.local etcetera if you have Air 4930).