What Is a Wi-Fi 6 Network and How Do You Get One?
Wi-Fi 6 is an industry certification for products that support the new wireless standard 802.11ax.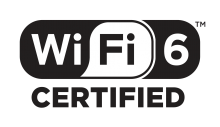 Wi-Fi 6 is often referred to as "high-efficiency wireless", boasting increased capacities, improved resource utilization and higher throughput speeds. You can read more about what the standard entails here: Wifi 6: What can we expect from 802.11ax and the designation Wi-Fi 6 itself here: Wi-Fi 6, 5, 4 ... Generations of wifi and their meanings.
The very first Wi-Fi 6 products hit the markets around the end of 2018 / early 2019, and all high-end products, such as smartphones, now support Wi-Fi 6. However, this support is only relevant when you also have a wireless network that supports the standard. You will only get the benefit of Wi-Fi 6 in your network if your router or mesh network supports it.
If your wireless network does not support Wi-Fi 6 (802.11ax), a client's Wi-Fi 6 support iwill have no bearing on the performance and functionality that the client gets on the network.
As a reseller, Eye Networks offers a number of gateways/routers and mesh access points that support Wi-Fi 6:
The reports and results we have seen from the rollout of Wi-Fi 6 indicate, among other things, increased performance in terms of better throughput both on Wi-Fi 6 clients and some Wi-Fi 5 clients on Wi-Fi 6 networks.
As usual with a new technology, we have also seen some compatibility issues. These are challenges anyone who installs Wi-Fi 6 access points may face, and we address them in this article.
What Is Compatibility?
"Compatible" basically means "works with". Wi-Fi 6 is designed to be backwards compatible with previous standards. That means that the vast majority of Wi-Fi products you have in your home probably work with a Wi-Fi 6 network, even if almost none of them should support Wi-Fi 6 themselves.
So what we mean when we say that a client has compatibility issues is that it does not work normally (or whatsoever) on a Wi-Fi 6 network.
802.11ac, also known as Wi-Fi 5, was the latest and best standard on the market until Wi-Fi 6 came along, and there are still many products on sale that follow this standard; both routers, repeaters, mesh networks and, not least, lots of different wifi clients. Most of these clients will be compatible with a Wi-Fi 6 network without having support for the very latest standard.
What Clients May Cause Problems?
A client is any device that can connect to a Wi-Fi network. This tends to bring smartphones, computers, and tablets to mind. We know of specific problems with some older products in this category, and you can read more about these issues below.
It is however worth keeping in mind that electronics such as panel heaters, bathroom scales, and smoke detectors can also be wifi clients. And while we have not recorded any specific cases yet, it might be useful to be aware that based on experience, this type of electronics is never early to adopt or support the latest Wi-Fi technology (for a related example, see our article How to connect Mill ovens to mesh wifi).
PCs That Use Intel Wireless Adapters
Several wifi adapters from Intel have known issues with Wi-Fi 6 networks. These problems are mostly resolved with a driver update, but it's important to know that those updates are not part of any Windows updates, so they will need to be updated manually.
Intel also has a dedicated application called Intel® Driver & Support Assistant, which keeps Windows up to date with the latest driver versions for their products. You can find an overview of adapters and recommended driver versions in this knowledge base article from Intel.
As an additional note: If a pc has the Wi-Fi card Intel® Dual Band Wireless-AC 8265 from 2016, this can cause major problems for Wi-Fi networks regardless of wireless standard, because the pc floods the wireless network when it comes out of hibernation. However, this issue can also be resolved with a driver update. You can read more about this specific issue in Renzo Notter's blog here: Wi-Fi DoS by RF-Jamming from faulty Intel Driver. There are, in other words, several good reasons to make sure that drivers are up to date.
Not sure what wireless adapter you have? Open Device Manager in Windows, locate "Network Adapters" and click to view the full list. Your Wi-Fi adapter should be listed here.
If you are an internet service provider and want to prevent users with Intel adapters from having problems, an option may be to turn off support for Wi-Fi 6 on customers' 2.4 GHz networks for now.
Products That Do Not Support WPA3 "Mixed Mode"
WPA3 is the latest standard for wifi encryption. This is separate from Wi-Fi 6 / 802.11ax, but in practice the same products will often be first or early to implement both.
If some devices experience problems connecting to the Wi-Fi 6 network, the problem may be in missing WPA3 support or the "WPA3/WPA2 mixed mode" feature. Mixed mode is intended to ensure that older clients can still connect, but in practice there are some clients who do not recognize this setting and refuse to connect at all.
Such problems are likely to apply to a number of older products, but reports we have received so far suggest that it applies at least to the following:
Older Apple products, for example iPad 4 from 2012 and other products using iOS version 12 or older.
Older Microsoft Surface models
As WP3 is much safer than WPA2, we do not recommend downgrading the security of WPA2 to let older clients connect.
Is That It?
Not at all. Our customers are ISPs who, like us, have extensive experience in rolling out new technology in home networks, and who know that such networks deal with unique blends of new and old technology, challenges due to building materials, layouts, interference from neighbors, and so on. An overview of how Wi-Fi 6 performs in this reality will never be exhaustive or complete, but this article contains all serious compatibility problems we know of today.