It might be good to start by saying that the new designations do not actually replace the "old" descriptors in every way.
The standards themselves have not changed their names. The committee that develops Wi-Fi standards is still called IEEE 802.11, and the standards they provide will continue to have catchy names like "802.11ax".
The Wi-Fi Alliance does not control the standard, but the alliance controls its own product certification programs. And what they have launched is a set of more user-friendly designations for the products that support these standards. The figures refer to generations – 802.11ax is thus considered to be the sixth generation of Wi-Fi.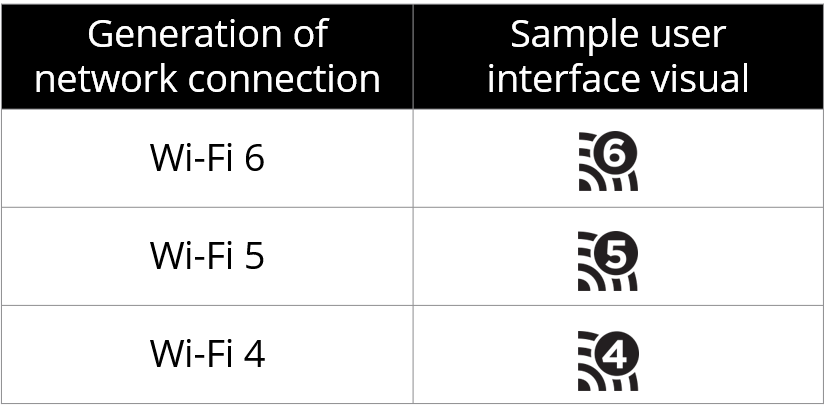 One can safely assume that the new names and the standard names will be used interchangeably, but it is still not a mistake to say "ax" or "ac" about what is supported by a product.
The idea is also that new products should now be able to actively show the user what version of Wi-Fi technology is available when connecting to a wireless access point. You'll not only get a Wi-Fi signal on the task bar of your phone or PC, but also a number that indicates the maximum performance and functionality you can expect from the connection.
| New certification name | Technology standard | Frequency band | Note |
| --- | --- | --- | --- |
| Wi-Fi 6 | 802.11ax | 5 GHz and 2.4 GHz | Currently the latest standard. Wi-Fi Alliance started product certification of Wi-Fi 6 in September 2019, the final standard was approved in May 2021. Read more in Wi-Fi 6: What can we expect from 802.11 ax |
| Wi-Fi 6e | | 6 GHz | Introduced with the Wi-Fi 6 certification, exclusively for products that support Wi-Fi on the 6 GHz frequency band. Read more here: Wi-Fi 6e: Internet on 6 GHz |
| Wi-Fi 5 | 802.11ac | 5 GHz | This designation does not distinguish between the first ax products and the latest round that includes newer technologies, known as Wave 2. |
| Wi-Fi 4 | 802.11n | 5 GHz and 2.4 GHz | |
Links
Wi-Fi Alliance about Wi-Fi 6: https://www.wi-fi.org/discover-wi-fi/wi-fi-certified-6
Article by Jorunn D. Newth