Residents of 100 high-end 2-3 story apartments had struggled with poor wireless coverage and unreliable performance since the buildings were completed in 2013. Eye Networks was brought in by general contractor Veidekke to deliver reliable wifi. We put in place smart, distributed wireless networks from AirTies that solved the issues and minimized support calls.
"Wireless works everywhere now, even in the garden and when moving between floors. We haven't had a single piece of negative feedback. It's on an entirely different level. What we have now, works really well."

Christian Hiorth, resident and head of the Hagebyen 1 housing cooperative
Scenario and Site Challenges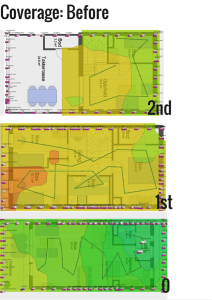 100 units with 2 and 3 stories, concrete walls
Fiber broadband with routers as single wireless access point, some supplemented with a repeater
Residents unhappy with coverage and performance
Heatmaps from one of the three-story apartments illustrate site challenges that are typical of modern buildings. Yellow, orange, and gray areas have poor to no wireless coverage.
Units have concrete floors and bathrooms with floor heating and reinforced walls, all of which are significant obstacles to wifi signals. 
The density of wireless networks in the area is also visible along the edges of the heatmaps. They are creating high levels of interference, primarily on the 2.4 GHz frequency band. 
Solution Design and Technology
AirTies Air 4920 are wireless access points that connect to each other to act as a distributed, autonomous wireless network with a single SSID, traffic load balancing, and client and band steering. Steering technology ensures that all clients are pushed to the best access point and frequency band available at all times, countering the interference issues with 2.4 GHz.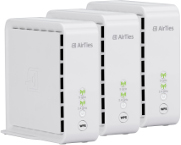 In collaboration with Eye Networks, AirTies has created an Air 4920 trio kit. We have found three access points to provide optimal coverage and robustness of infrastructure for most homes, including the Hagebyen apartments.
All the access points are provisioned by EyeSaaS, the Eye Networks-developed platform for device management and insight, which allows for ongoing firmware upgrades and maintenance.
Results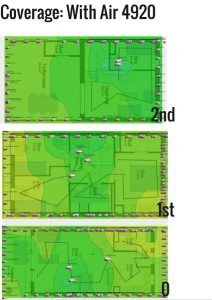 Full coverage on all floors including roof terrace
Performance optimized for 5 GHz
Customer calls minimized
After installation, we performed technical surveys, a web survey, and tallied related support calls and issues. Fewer than five issues have been identified—and quickly resolved.
Updated heatmaps show that the high-end units included in the project finally have full coverage.
Conclusions
Fiber access and new services are driving expectations for wifi far beyond what the traditional router-as-single-access-point model can handle, in all but the smallest homes. 
The Hagebyen case demonstrates that AirTies Air 4920 stands head and shoulders above the competition in this scenario, with sophisticated technology that reduces complexity for the user. 
Related Links
White Paper: Fiber and Managed Wi-Fi
EyeSaaS Pearl Wi-Fi Insight and Management Service 
Contact Eye Networks
Do you have a building project or housing cooperative in need of Wi-Fi that won't let the residents down?
Read more about our current wifi portfolio here: Wifi Solutions From Eye Networks
Contact sales@eyenetworks.no or call us to discuss a solution!
Note: Eye Networks no longer distributes Airties in Norway, but our documentation about Airties products can be found here: Airties documentation
Project Facts
Customer: Veidekke
Installation: Netel
Vendor: AirTies
Solution design: Eye Networks
Completed: October 2015