What is EasyMesh?
EasyMesh is a certification program for wireless product providers from Wi-Fi Alliance.
EasyMesh certification can be granted to technology that supports the Multi-AP specification. Version 1.0 of this specification was published in June 2018.
What is Multi-AP?
AP stands for "access point" The Multi-AP specification standardizes basic functionality for interaction between several access points.
Multi-AP supports, among other things:
Optimization of the backhaul (communication between nodes in the network)
Backhaul either via Ethernet or Wi-Fi
Client steering according to 802.11 k/v standards
Reporting on and selection of wireless channel via a controller
Configuration management via a controller
The specification defines a Multi-AP network as consisting of one controller and one or more agents managed by this controller.
The same device can contain both functions or act only as a controller or only as an agent.
In practice, this means that the specification requires that all communication go through one controller. This is often called a tree topology. With today's chip sets, it is only possible to implement this as a star topology, which means that all agents must communicate directly with the controller, as illustrated below.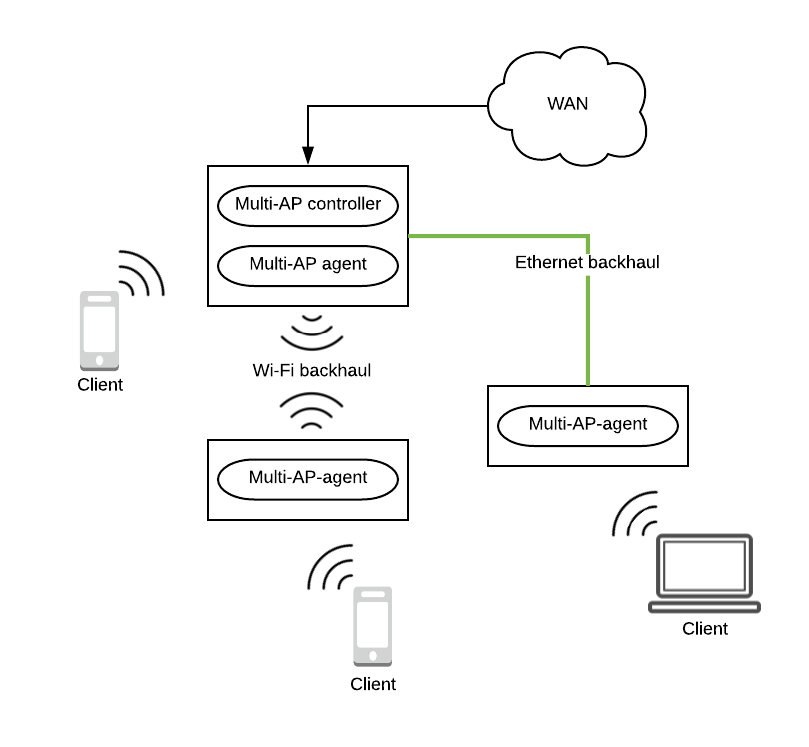 The upcoming chip set that supports EasyMesh will enable you to include "daisy-chaining" in such a tree-topology; that is, agents can contact the controller by way of other agents.
However, it will still not be a fully-fledged mesh network--not as long as there is a tree topology.
What is a "real" mesh network?
In a full-fledged mesh network, all nodes can communicate with each other directly and dynamically.
In an AirTies mesh network, which is what you get with the AirTies home pack, all access points can communicate with each other.
What's Going On with AirTies and EasyMesh?
AirTies is a member of the Wi-Fi Alliance and announced during spring 2018 that they would support the new standard. AirTies wireless access points will be EasyMesh certified. AirTies also participates in a working group for the next version of Multi-AP.
New access points from AirTies will support Multi-AP version 1 as well as full-fledged mesh and all other functionality that AirTies delivers.
Existing access points from AirTies will eventually be possible to upgrade so that they will support meshing with Multi-AP.
For example, an AirTies device would be able to act as controls for repeaters from other manufacturers that also support Multi-AP — of course, without providing support for advanced AirTies functionality for third-party products.
What does AirTies do beyond Multi-AP?
AirTies Smart Wi-Fi supports, among other things:
Full-blown wireless mesh based on WDS
Dynamic per-packet routing, where the optimization is based on the destination of the package
Full support for combining wired and wireless access points (Ethernet mesh, sometimes known as hybrid mesh)
Advanced client steering to account for many different clients
QoS with streaming and prioritization of IPTV
Coordinated DFS that complies with FCC and ETSI guidelines
Seamless and simultaneous channel switching
Noise reduction and airtime optimization
Remote management and automatic firmware updates
Configuration and troubleshooting via consumer and installer apps
Do you have any questions?
If you, as an ISP or reseller of AirTies, have special requests or concerns regarding the implementation of the Multi-AP standard, we would love to hear from you.
Please contact us at sales@eyenetworks.no or call us.