To reset a device to factory default:
Use the end of a metal paper clip, plastic toothpick, or similar.
Push this pointy object down the hole marked "RESET" on the back of the access point and hold it for 5 seconds.
Once the process has been initiated, the LEDs on the front of the access point will briefly flicker, and the device will reboot within 3 minutes.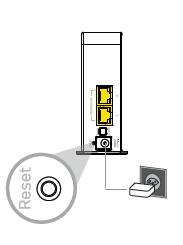 This resets the device to original factory defaults, meaning that devices that came in a home pack, will still be meshed with each other after a reset, while any additional access points must be re-added to the mesh after a reset.
Note that for a mesh network to be reset, you must reset all devices within 1 minute and 30 seconds.
See also Extending your AirTies mesh network with an additional device.